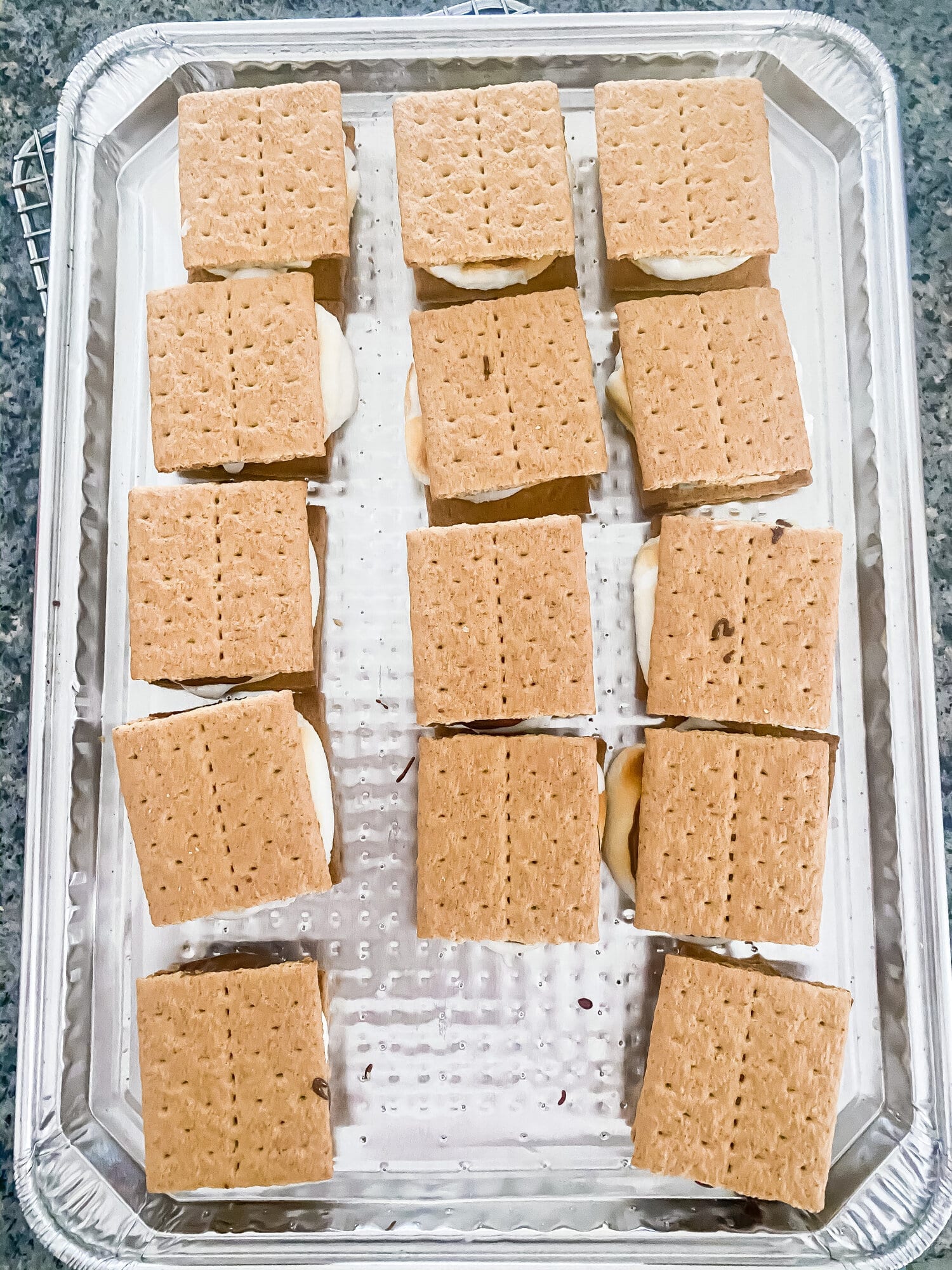 If you love making s'mores but want to skip the mess of roasting marshmallows, keep things toddler safe and make a lot at once, try these Sheet Pan S'mores from Maria Provanzano of From Scratch with Maria. The best part? You can enjoy them this way well after summer has gone. 
INGREDIENTS
graham crackers
chocolate bars
marshmallows
2 sheet pans
HOW TO MAKE SHEET PAN S'MORES FROM SCRATCH
Place the top rack in the oven near the broiler, being careful it's not too close that the s'mores won't fit under it.
Turn the oven to broil.
Break the graham crackers in half and line them up onto the two sheets.
Place a few pieces of chocolate on each graham cracker on one sheet and place a marshmallow on each graham cracker on the other sheet. Make sure you have an even amount on each sheet so that each marshmallow cracker is paired with a chocolate one once you want to smooth them together.
Place the sheet with the chocolate into the oven under the broiler and allow the chocolate to start to melt. Do not take your eyes off of it or walk away, this happens quickly.
Remove the sheet pan from the oven and place on a cooling rack.
Then, place the sheet pan with the marshmallows into the oven under the broiler and watch it carefully. The marshmallows will start to brown, and can go from brown to fire very quickly so remove them once they are golden. Do not walk away, this happens quickly! I like to flip them over and brown the other side as well. This is optional but make the marshmallows nice and melty.
Once the marshmallows are done to your liking, while they are still hot, place the chocolate graham cracker onto the marshmallow one to create a s'more! The chocolate should be melted to the graham cracker enough for this to be an easy process.
Pass them around and enjoy eating s'mores all at the same time!
More from Maria:
Maria's Favorite Summertime Sandcastle Cake
S'mores Shortbread Cookies 
DIY Summer Drink Stirrers 
S'mores On a Stick