Two Westport Moms sharing their favorite new products, apps, or services that every mom shouldn't live without!
Megan and Melissa love learning about exciting new(ish) products that make their lives easier, more enjoyable, or just are fun to know about. This includes things for them, as well as for their kids. Each month, we hope to share 1 "pick" for moms and 1 "pick" for munchkins that we have found, and hope you will enjoy too! Any and all products or ideas are welcomed, so email [email protected] anytime!
Summer 2018 
For Moms:

What It is: Las Bayadas Women's El Pablo Tote
Why We Love It: This colorful striped tote comes in many different color variations. They are extra large, light and if you travel, they hardly take any space in your luggage making it very travel friendly. The bags are made from recycled cotton and inspired by traditional Mexican fabrics. When you buy one of these bags, Las Bayadas will donate 10% of the profits to a scholarship program for students at the Costa Verde International School in Sayulita, Mexico. This fun tote is also an excellent price point at $55. You can of course purchase It on Amazon, or shop local and buy from a new women's luxury lifestyle boutique called Penfield Collective opening this month in Fairfield. Email [email protected] or DM @penfieldcollective.
What It is: Rothy's Flats 
Why We Love Them: These trendy woven flats are moisture-wicking, machine-washable, and eco-friendly (they're actually made of recycled plastic water bottles).  They are so comfortable that they actually feel like you are wearing socks. This shoe comes in a few different styles and MANY colors, and can be worn day and night and we promise your feet will be blister free. Rothy's flats are a total game changer. Prices start at $125, and they run pretty true to size!
For Munchkins:
What It is: Big Mouth Ginormous Dinosaur/Unicorn Yard Sprinkler
Why We Love It: Take your summer "backyard" game to the next level with these life size 6-foot-tall Unicorn & Dinosaur sprinklers. These showstoppers provide hours of endless fun for your little ones. They are also simple to use. All you have to do is inflate it, connect a standard garden hose and turn the water on.  If you have a pool, this company also makes a huge variety of awesome pool floats.  You are guaranteed to have the best backyard and pool parties this summer with items from this brand. These sprinklers are pricey at $50, but so worth It! They are also a great joint gift for a summer birthday party!
What It is: Melissa and Doug SunnyPatch Double-Sided Bean Bag Toss Game + 8 Bean Bags
Why We Love It: If the kids are always taking over your corn hole game and stealing the beanbags this double- sided beanbag game with two challenging ways to play is the perfect solution. It includes eight beanbags perfect for little hands. This is a great activity for solo play, parties, or play dates, plus it helps develop hand-eye coordination, number recognition and counting skills. The cost for this great distraction is $25.
February, 2018
What it is: FASTEN is an innovative, patented girl's swim and dance wear line.  Their game-changing swimsuits and leotards open across the waist via hidden fasteners to make diaper changes and bathroom breaks faster and easier.  They have totally upgraded the one-piece.
Why we love it? Moms of young girls can stop wrestling with wet swimsuits or tight leotards when your little one needs a diaper change or to use the bathroom and older girls can feel more independent in the bathroom without struggling to get their one-piece off AND without leaving it sitting around their ankles on the bathroom floor!!  FASTEN is FASTER, EASIER and CLEANER!  Their customers call the products "genius" and they were recently called "the perfect consumer product" by the founders of theSkimm. You can find all of their game-changing products at www.fastenswim.com and WestportMoms get 20% off their first order by using code CTMOMS at checkout and using the link here.
What it is: Izipizi (pronounced "easy peasy" ) is an awesome brand of eyewear that makes innovative, stylish and colorful glasses (readers and sunglasses) for men, women and children from ages 0 and up. This Paris based brand offers revolutionary screen-protective glasses that reduce digitial eystrain by filtering out harmful blue LED rays.
Why we love it: We love these glasses because they satisfy our need for fashionable designer eyewear at very accessible prices ($40-$50). Since the glasses are so affordable you can get different colors and styles to help enhance any outfit, not to mention if we loose them or our kids break them we will not feel so guilty. Now our secret is out and we expect to see you all wearing your Izipizi readers and/or sunglasses! (Note: They ship from outside the US so ordering a few at a time is sometimes worth it!)
January, 2018
With the bomb cyclone hitting us this month – and the frigid temperatures we don't seem to be getting rid of anytime son – we figured it would be appropriate to do our M&M picks on things that could help you – and your kiddos – stay warm.
It is always a good idea to heat our bodies from the inside out. A warm cup of coffee, tea or cocoa can usually do the trick in the early morning hours or after being outside playing or skiing for hours. However, the majority of the time your hot drink gets cold within minutes, but now thanks to "Mr. Coffee Mug Warmer" your drink will stay warm the entire time you sip it. This little product is on sale for $7.99 on Amazon right now. It has a convenient on/off switch with on light indicator as well as an extended cord length to use almost anywhere. This will be your new favorite gadget! *If keeping your coffee (or tea) at just the right temperature is really a top priority (and you're willing to splurge a bit!), check out Ember, the world's first temperature-controlled mug, voted by TIME Magazine as one of 2017's best inventions!
Now that your bones are warm from the inside, it is time to protect them from the cold when you step outside! We both love our UNIQLO Heattech Innerwear (like long underwear), which is a revolutionary technology from Japan. It is a specially designed fabric that captures heat from your body and helps you retain it to keep you warm. It really does work. You all need this for yourselves, husbands and even kids, especially those of you who ski. They come in solid colors or cute patterns and are inexpensive($15 for women and $10 for kids), but they really do work. They are also perfect to put under girls' leggings which are far too thin for these outdoor recess temperatures!!
Finally, because we are just so grateful a friend told us about these, if you don't already have Balaclava Masks for your kids (or even for you!) for skiing – or these frigid days – don't wait any longer! They are wind-proof and warm, and essentially are a hat, scarf and mask all in one! They come in every color, and is appropriate for all kids 3-12 years old! This may make even you more willing to stay outside to build that snowman!
December, 2017 – Holiday Special!
This month, instead of a pick for Moms and a pick for Munchkins, we wanted to share a few services and products we love – and thought you might love for yourself- or someone you love- this holiday season! Happy Holidays!
For your partner…
AirPods – (Apple's Wireless Headphones)– Want to stay up to date with all of the latest technology? Well then you need the AirPods from Apple. These wireless headphones will forever change the way you listen to music while you workout or commute. When you take out the AirPods from the charging station, they instantly turn on and connect to your iPhone, Apple Watch, Ipad or computer. It is that simple plus the audio is rich, high-quality.
For you…
Ebates – The Ebates Cash Back Button is the helper you always needed and wanted but never knew about. Well now, thanks to us we are going to make you rich (well not really but we will save you money while you shop FOR REAL). All you do is go to ebates.com before you start shopping online and type in the store you are ordering from. It will then take you to that stores website. That is it. There is nothing more to it. Ebates even applies coupons automatically at checkout so you'll always get the best deals.
For your kiddos…
Fingerlings – If you do not know about this seasons hottest holiday gift for kids now you do. The company WowWee has achieved the impossible and created a line of colorful robo-monkeys that cost $14.99 apiece. The toy wraps its little plastic arms tightly around your finger (they do not move but rather it slides on like a ring) and it reacts to touch and movement with an instantly engaging collection of about 40 monkey-ish sounds. Insider Tip: They take LR44 watch batteries since we want you to be prepared.
For you AND your kiddos….
Moonlite World – Do you need something to help convince the kids to get into bed? If so Moonlite may be your solution. Moonlite is an easy-to-use storybook projector for your mobile phone, that turns your child's favorite storybooks into an interactive and magical experience. It uses the flashlight of your phone to project big, bright, vivid storybook images onto the ceiling or wall. All of the words to the story, sound effects, background music and more display within the Moonlite App. Bedtime will never be the same!
For you…
One Two Lash – Who does not want to look glamorous at all the upcoming holiday parties? We are going to let you in on a little secret but shhhh….enter the world's first magnetic lash! Thanks to micro-magnetic technology you too can have beautiful long eyelashes without using a serum or spending hundreds for lash extensions. Instead, One Two Lash sandwiches your natural lashes between two ultra-lightweight fiber strips to create a bold, dramatic lash line in seconds. Your lashes will look long, think and luxurious while looking natural and there is no glue involved. They also only cost $70 and you can reuse them. Thanks to Jane Green for this beauty tip!
For anyone you love…
Tile Mate – Are you like us and always loosing your phone or keys? Thank goodness we just found out about the Tile Mate, which is a little bluetooth tracker (a thin square) that easily attaches to just about anything. You will be able to find any items that you put a Tile on as soon as you open the App and it will ring if it is nearby or you can find its last known location on the map. While you would think this would be pricey one tile is $20 and a pack of four is $60.
November, 2017
For Moms (or Munchkins): Glad "To Go" Lunch Containers
What it is:  Glad To Go Lunch food containers prevent soggy salads and foods by keeping dry and wet ingredients separate until you are ready to eat. These containers feature little dressing cups that snap tightly into the lids. The containers are the perfect size for packing lunch items like salad and dressing, dip and chips, or breakfast items like pancakes and syrup or cereal and milk. The lids snap tightly to dressing cups and containers to prevent leaks or spills. They are BPA free and microwave safe, plus you can safely heat food in these containers. The clean up is quick and easy because they are dishwasher safe. Glad To Go containers are TRULY designed for life on the go.
Why we love it: We love this product because something this simple truly rocked our world. As a result, we wanted to make sure you all knew about this convenience in the off chance, like us, you did not realize the proper use of the interlocking lids when you purchased more tupperware for your already overflowing draw.  These bowls are ideal for meal planning or packing lunch or snack for your kids. They are an absolute game changer and now we no longer eat soggy salad, (or salad with no dressing because it all spilled!), and we can send hummus or guacamole with chips for kids' school snacks without having to buy the individual packs.
For Munchkins: Full Circle ZipTuck Reusable Snack Bags
What it is: These sustainable storage bags which come in different sizes (lunch, snack, storage or travel) are perfect for kids to use on a daily basis. They come in fun designs which makes the kids happy, and moms are happy because they are made from plant based materials which break down safely and quickly so they are not harmful to kids or the planet. You can label and wipe these bags clean with a dry erase marker. For best results, you should hand wash them but they are dishwasher safe; (just put them on the top rack)!

Why we love it: These reusable bags help us organize the constant chaos of packing lunches and snacks. They are cute and durable and so much better than wasting multiple Ziploc plastic bags a day. They keep the food fresh with their ultra tight close so even apple slices do not get brown right away. WM Tip: The lunch set is the winner because it has a sandwich size bag and a snack size bag!
October, 2017
For Moms: "Look at Mommy" Camera Attachment
What it is: If you're like most people, your phone is your camera. "Look At Mommy" helps you start taking better pictures of your kids! You can attach it anywhere on your iPhone or Android as long as it avoids the camera lens and the product will work its magic. This $28 funny fuzzy face attachment also comes with 3 lighting modes to draw attention to the lens and project soft lighting for a professional looking photo.
Why we love it: Like us, we are confident that almost every parent would agree that it is nearly impossible to get all the kids to look at the camera at the same time for that picture perfect moment. Now instead of offering ice cream for a winner smile or having to give your kids "the look" – the universal one all moms do when they want to scream at their kids but instead just beg them to look at the camera – you can use the "Look at Mommy" phone attachment, and voila all kids are laughing and looking straight at the camera. It is your very own mommy magic. Who would have thought all it would take was a funny looking face to actually capture the attention of your little ones (tested on kids up to age 5)?
For Munchkins: Fujifilm Instax Mini Camera
What it is: The Fujifilm Instax Mini 8 is a polaroid camera perfect for elementary school kids that brings instant fun and excitement everyday. It is cute, compact and comes in 5 different vibrant fun colors. It is very simple to use. All you do is turn the power button on, adjust the dial to the lit position which tells you the best lighting for the image your shooting and then you shoot and you get the picture instantly.
Why we love it: This mini polaroid camera makes the kids forget about your iPhone (at least momentarily!), and want to spend hours taking great photos of absolutely everything!! It is so easy to use and provides hours of entertainment and lasting memories.
*If you have a younger child who loves to take pictures consider The Kidizoom Camera Connect from VTech.  With this real 1.3 megapixel camera your child can capture great digital photos and movies. Your child will become an instant photographer and movie director at the press of a button. They can edit photos with wacky effects, shoot video with fun animated borders, use the voice recorder with five voice changing effects and even play three cool games all right on the camera! This safe and durable camera features a 1.8″ color screen with an easy-to-use viewfinder and it comes with 128MB internal storage so it can hold approximately 800 photos. This camera has our vote for the little ones because it provides endless creative fun! M&M tip: this is a great gift for parents to give to their child when they become an older sister/brother so they can feel like they are a part of all the excitement and taking  lots of pictures of the new addition like his/her parents.
September, 2017
For Moms: 
What is it? The Nathan 5k Waist Belt is an ultra-lightweight neoprene belt (think super slim fanny pack) with a reflective belt keeper that can hold your iPhone, license, credit card and keys. The reflective belt comfortably fits around your waist – or wherever you may want to put it – and it does not slide up and down on your body. It comes in a bunch of fun different colors, and it is unisex.
Why we love it? With the kids heading back to school, we may now actually get some time to go for that much needed walk or run outside before the weather gets too cold. The Nathan 5K Waist Belt is the key to comfortable stashing all your essentials in one place, and as an added bonus, it's comfortable to wear! You no longer have to put keys in your pockets, and have them jingling while you run or phones inside your pants getting sweaty against your skin. It is the gift to yourself that you did not realize you needed, but you will wonder how you survived without for so long! WM Tip: It is on sale for $19.99 on Amazon.
For Munchkins:
What is it? Fred's DINNER WINNER Dinner Plate takes getting kids to finish the food on their plate to a whole new level. This plate turns mealtime into a board game, where the goal of the game is to eat each item of food along the board in order to reach the finish line where a covered "dessert" or "special treat" awaits.  The board can be filled with proteins, grains, veggies, etc., and the treat at the end can be anything from an actual treat to raspberries or even a toy!
Why we love it? After a long summer of meals at Joey's followed by ice cream, we all could use some motivation to get back into healthy eating – for ourselves and our kids. The plate is molded from BPA-free, 100% virgin melamine, and is food-safe and dishwasher safe. We all know all too well how picky some of our kids have become, and if it takes an enchanted forest plate with 3 M&Ms at the end to get them eating broccoli, it may just be worth it!
July, 2017
For Moms:
Mengo Phone Car Mount
What is it? A game changing $10 piece of plastic that you can mount your phone on in the car. Instead of looking down to your lap to see the Waze directions you are trying to follow or to see who might be calling, your phone is in front of you and you can keep your eyes on the road – where they should be!

Why we love it? As moms, we are – for better or worse – basically attached to our phones. Mengo – and other mounts like these (MagicMount is another one we love!) enable us to get where we're going, and do what we need to do, while staying safe. They are small, inexpensive, can be moved from car to car, and work for almost all phones and cases. We truly have no idea how we've been surviving without them for this long! WESTPORTMOMS TIP: Sometimes your phone provider will throw these in with a new phone or upgrade, so don't hesitate to ask!
For Munchkins:
Cool Gear Travel Potty
What is it? A travel potty for kids (or adults…?) that is a $19 life saver. Unlike most travel pottys, this one uses ziploc bags for whatever it is that goes into it, which makes clean up quick, easy, and pretty much odor-free.
Why we love it? All of us have been in the car – or at the beach – with a child who refused to pee before you left home, and suddenly has to go with no time to spare. This potty collapses down to a tiny flat container for easy storage and converts quickly into all you'd ever need. With compartments on the side for plastic bags and extra wipes – or even underwear – this ingenious potty lives in our trunks and has saved us hundreds of times. It even made it to the July 4th fireworks, and was possibly the biggest hit of the night. WESTPORTMOMS TIP: Get it from Walmart for the lowest price by far!
June, 2017
MAY, 2017
APRIL, 2017
For Moms:
What is it? The one email we read every morning. The Skimm is a daily email newsletter that provides a brief, easily digestible, and pithy – synopsis of the past day's current events, including politics, world news, sports and entertainment. As the Skimm says about itself: "it makes it easier for you to stay smarter."

Why we love it? At a stage in life where time is always of the essence, and we are inundated with more information than our brains can consume, we crave simplicity. In 3 minutes, the Skimm keeps you up to date, helps you understand, makes you conversational, and kicks the day off right. It is written by young journalists who speak our language, and let's be honest – who knows when the current status of Kayne and Kim, or US relations with Russia will come in handy? Skimm it. It's worth it.
For Munchkins (and moms?):
What is it? Need 10 minutes to get yourself dressed, write an email or just breathe? MSQRD is a free app that kids of all ages will enjoy plus it allows you to get those few free silent moments. This app allows kids to transform their faces into animals, celebrities, spooky creatures and some of the masks even animate depending on your expression. These hysterical filters will have your kids (and even you) laughing for hours.
Why we love it? Of course our phones are filled with educational apps that take up so much memory but sometimes it is also nice to let the kids laugh and have fun. MSQRD is the perfect app to do so with all of the silly digital masks they provide. It is also a great app for people who want to avoid Snapchat (call us old but it overwhelms us) and/or maybe you do not want your kids in your Snapchat account for fear of what they may post. MSQRD will allow kids to use filters that are just as cool as Snapchat for free and safely. As a bonus, you can save the cute selfies the kids take plus their videos and when you find them randomly in your phone you will get a good laugh.
MARCH, 2017
For Moms:
What is it? The new dessert you have to try! Halo Top is a low-calorie, high-protein, and low-sugar ice cream made with all-natural ingredients so that it tastes just like regular ice cream. There are over 15 flavors, including ones we can't resist like Red Velvet, Peanut Butter Cup and Birthday Cake!

Why we love it? What is better than a guilt-free, gluten-free* dessert? Forget all of the artificial sweeteners in so many sweets these days; Halo Top is the real deal. We already sampled it for you, so can promise you it is stocked at Whole Foods, Stop n Shop, and Balduccis. Buy a few; the pint will be empty sooner than you think!   *Over 10 of the 17 current flavors are gluten-free!
For Munchkins:
What is it? A hands-on learning monthly subscription box with options for newborns to kids 16+. Each box contains high quality materials for 2-3 truly age-appropriate and creative projects and an activity guide for parents to engage their children with. The mantra is to "inspire the next generation of scientists, artists, and makers."
Why we love it? As parents, we are constantly looking for projects to educate and inspire our kids. If – like us – you've done every headband making kit available and can not make another fish out of crumpled tissue paper, Kiwi Crate is your answer! Not only is it great for your kids- and always changing – it is a fantastic group gift idea, and fellow parents appreciate it tremendously!
FEBRUARY, 2017
For Moms: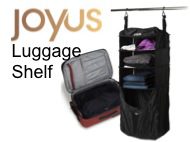 What is it? It is your own personal closet valet and seriously the best thing to happen to luggage since wheels. The luggage shelf is exactly as described- there are 3 shelves to put your clothes on with a separate pouch at the bottom for your dirty clothes. There is also a top zipper pocket which is good for accessories, appliances or even shoes. This shelf fits perfectly into your suitcase, is incredibly sturdy, and can hold up to 50lbs. This product completely takes the hassle out of packing/unpacking and will help you stay organized. It does not get much better!
Why we love it? Moms know all too well that packing these days is not just about packing for us; it's often for ourselves, a partner, and several kids in tow. Joyus helps you organize your suitcase, limits unpacking when you get wherever you are going, and keeps dirty clothes separate for you! In our opinion, anything that saves time and keeps you organized at a reasonable price is a must have for that next school break trip!
For Munchkins:
What is it? It is a do-it-yourself kit where you make flourescently colored slime from scratch in test tubes. It is really easy to follow the instructions and super fun for all. Great for young and older kids

Why we love it? Something about slime just captivates kids. This kit provides hours of entertainment for your budding scientists especially during these cold winter months. Boys and girls will love to experiment with the slime and make different types magic potions. This also makes for the perfect gift for $19.99.
JANUARY, 2017
For Moms:
What is it? An all natural sneaker made in New Zealand from sheep's wool that truly makes you feel like you are walking on air – while also being in style.
Why we love it? Most sneakers are clunky and smelly. All Birds sneakers are lightweight, can be worn sockless, and keep your feet cool in the summer and warm in the winter. They have many color options- for guys and girls, which make them a perfect gift. They are the most comfortable shoes we've ever worn. Ps. If we haven't sold you already, they are machine-washable, so when red pasta sauce winds up on your shoes, just toss them in with your next load!
For Munchkins:
What is it? "The smartest doh to ever flow". This new take on Playdoh keeps kids busy for hours. You can shape it, mold it, crumble it, mix it, stretch it, and so much more!
Why we love it? Unlike playdoh, it NEVER dries out, it doesn't smell, and it's gluten-free, casein-free, and above all toxin-free.We promise it will give you some sanity back!