Wondering how to keep your dog busy while you're busy?
Active Dog is here to help! How many times have you thought to yourself,  I wish I had a bigger yard for my dog to run around and play on, or I wish I had more time so I could get my pup out for some exercise and fresh air today? If you're anything like us, you want the best of the best for your dog. We're here to make sure your fur babies are getting their exercise, socialization, and training in a safe and fun way! Active Dog is a locally owned and operated dog hiking company that was founded in 2011. Since then, our team has hiked over 250,000 dogs.
We have our own private land with over 100 acres where the pups can roam freely.
Did you know that dogs are one of the few animals that continue to play even into adulthood?
Dogs are highly social creatures so with Active Dog running daily hikes, your dog is able to run and play with their fur friends every day! Most of our dogs adopt a weekly schedule, most going several times per week with the same two hikers and a group of carefully assessed dogs.
Along with our hikes, Active Dog also has multiple training courses for you and your dog. Active Dog Training not only focuses on solving behavioral problems, but places an emphasis on finding the root cause of what may be affecting your pups behavior. Physical exercise and mental stimulation are vital components to any training plan, and Active Dog hikes are the perfect opportunity for your pup to get out, use their brains and stretch their legs. Training with Active Dog will also allow your new puppy to start life off on the right paw. Our trainers focus on the importance of how to effectively socialize your pup, and our puppy hikes will let them dive in slowly until they're ready to join the big dogs!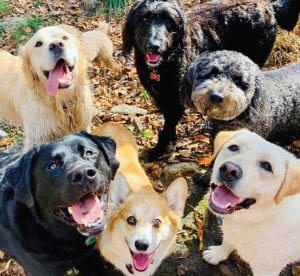 Our hikes are 60-90 minutes and include transportation to and from your home.  If this is your dog's first hike with us, they will also get a special shout out on our Facebook and Instagram pages. Each of our hikes gets their own Facebook post with video of the hike or photos of the pups in their natural habitat.  Your dog could also be featured as our Dog of the Week! We like to make each hike as special as possible for these dogs. Our clients have told us that when our vans show up to pick their pup up, they can't get out of the door fast enough. It becomes the highlight of their week and we take that responsibility seriously. Tune in next time to see why enrichment for your dog is so important and how to accomplish it.
Mention the LOCALMom's page in your new client submission form and receive your first hike for FREE!