The Very Hungry Caterpillar is Live On Stage at The Palace in Stamford
Author/illustrator Eric Carle's "The Very Hungry Caterpillar" has delighted generations of readers since it was first published in 1969, selling more than 43
million copies worldwide. Now the timeless classic has made its way off the page and onto the stage, coming to life at The Palace Theatre in Stamford on Tuesday,
November 27 at 4:00pm.
Carle's well-known books continue to captivate readers with iconic colorful hand-painted tissue paper collage illustrations and distinctively simple stories,
introducing generations of children to a bigger, brighter world – and to their first experience of reading itself. Created by Jonathan Rockefeller, the critically – acclaimed production The Very Hungry Caterpillar features a menagerie of 75 lovable puppets. It faithfully adapts four of Eric Carle's stories: "Brown Bear, Brown Bear," "10 Little Rubber Ducks," "The Very Lonely Firefly" and, the star of the show, "The Very Hungry Caterpillar." "We are always looking for way to entertain, educate and enrich young audiences," said Michael Moran, Executive Director of The Palace. "Shows like The Very Hungry Caterpillar give children the opportunity to experience the joy and excitement of live performance — in some cases for the first time. These programs spark imagination and are the building blocks to a lifelong passion for the performing arts." The Very Hungry Caterpillar is part of The Palace's extensive family lineup designed to delight even the youngest theatergoers. Additional shows include
A Charlie Brown Christmas (November 24), The Nutcracker (December 15 -16), A Magical Cirque Christmas (December 22), Disney's Frozen Sing – A – Long (December 30), PBS Kids Live: Big Tiny Adventure (January 16) and an entire season of Playtime at The Palace performances (January – March).
Tickets for The Very Hungry Caterpillar are $15.30 – $32.00 and may be purchased on
palacestamford.org
or by calling the box office at 203-325-4466. The Palace Theatre is located at 61 Atlantic Street in Stamford. For the latest news and updates, follow @ThePalaceTheatreStamford on Facebook and @PalaceStamford on Twitter.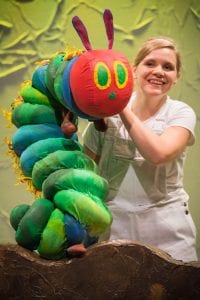 About The Palace Theatre
The 1,580-seat Palace Theatre is dedicated to performing arts of all genres – music, dance, theater and comedy. In addition to hosting world – renowned performers in
each of those fields, the Palace partners with arts organizations like the Stamford Symphony and Connecticut Ballet for their performances. The Theatre's three floors
encompass a deeper – than – typical Broadway – size stage, a café, a Learning Center, a theatre – long art gallery and a magnificent glass – walled promenade. The Palace is
dedicated to providing exciting entertainment that enriches the cultural, educational, economic and social life of the community