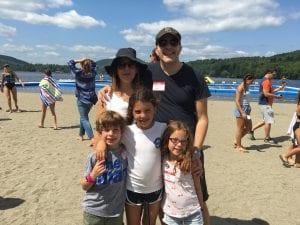 How old are your kids and how long have you lived in Westport? I have a 9 year old daughter, and 7 year old boy/girl twins. We've been in Wesport for 3 years.
What has been the most difficult age with your children to date? I think the hardest part was when they were 2 and 4 just the management of having them running in all different directions without any regard for their own safety. Time and moving to the suburbs helped!
What is your favorite family activity to do in Westport or the surrounding towns? Summer sunsets are a must and friday night ice cream at Saugatuck Sweets are a family tradition.
What was your most memorable family vacation and why? We recently went skiing in Jackson Hole, WY and loved every minute of being active and exploring the old town – and of course all the wildlife sightings.
What is the best white lie you have told your kids? Chicken-Fish. The only way we can get our kids to eat fish, is if we tell them its chicken fish. Though I think those days are limited….
What is your proudest mommy moment? When I see the kids looking out for each other at playdates, parties, events, etc.
What's your can't live without beauty product? Biologique Recherche Toner – Ive been using it for twenty years!
What's your favorite restaurant in town for a family dinner? A night out with friends? You can't beat Bar Taco there is something for everyone. For adult nights we love all of Bill Taibe's restaurants, especially the Whelk, and the kids can run around outside while we wait for our table or food.
One thing people would be surprised to know about you? I'm 100% Russian and its my first language. Also – I went to the "FAME" high school and majored in classical Piano and Viola.
If you had 24 hours to do whatever you wanted – what would you do? Fly to Big Sur – go for a hike, sit on the beach, have a drink at Post Ranch Inn, and fly home.
What do you most value in your friends? Truth.
What is your greatest regret? No regrets, just an evolving perspective.
What is one piece of advice you would pass along to other moms? Find time to laugh with your kids – it's the best medicine and the best role-modeling.
How did you end up where you are now in terms of your job, or whatever
passion project it is you might be doing? 
After a long stint running a highly successful fashion and beauty PR firm, I left the business to start my family. I thought I would never go back to work, until I started feeling that itch to do something…to be inspired….to create something. I missed the energy – and even the deadlines. A few years (and few amazing apartments) later with the kids now in school full-time, I was deep into designing our apartment and friends were always asking me to help them with their own homes. So, I took on some pro-bono projects to test the waters, and shortly thereafter founded
Winding Lane Design
. Today, WLD, focuses on projects throughout the northeast including NYC, Westchester, Long Island and Nantucket.
If you have any design projects you are thinking about or working on, you can email Simona anytime at:
[email protected]