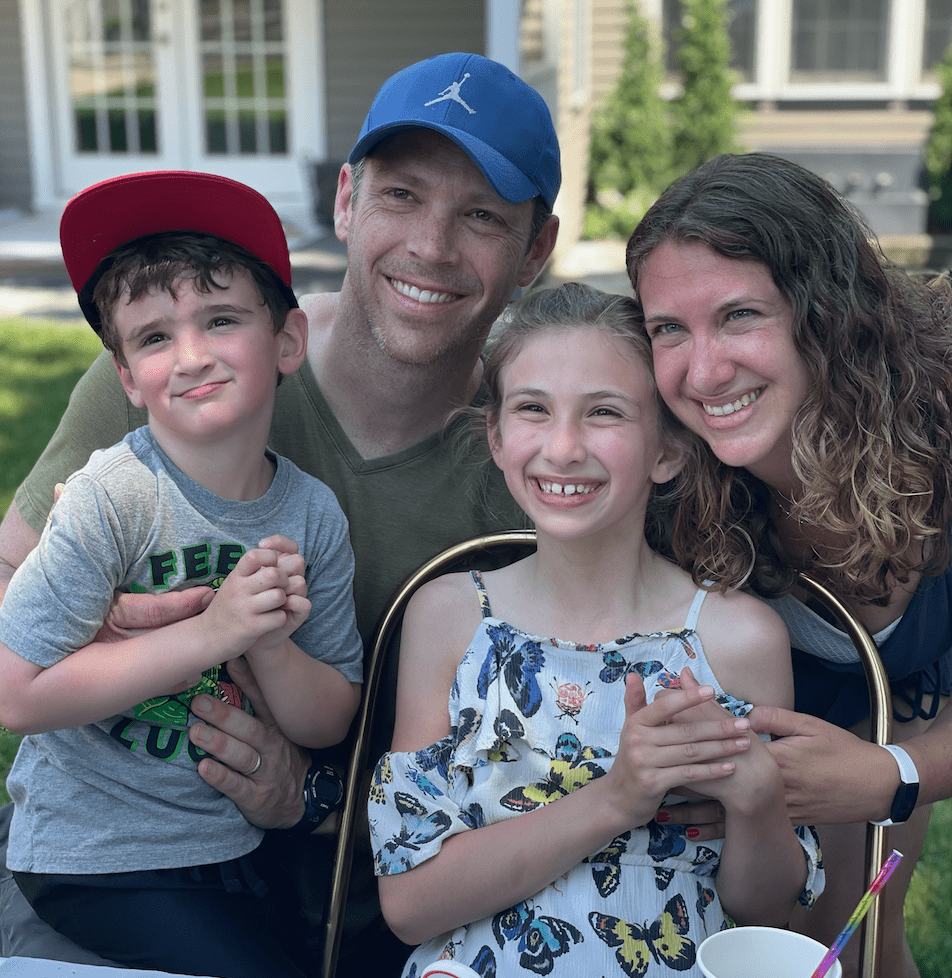 How old are your kids and how long have you lived in Westport/the area? I have an 8 year old daughter and 5 year old son. We moved to Westport 6 years ago.
How did you end up where you are now in terms of your job, or whatever passion project it is you might be doing? My lifelong dream has always been to be an author. While other kids were out playing soccer or acting in the school play, I was dreaming up stories and poems. My grandfather was never without a pencil and a slip of paper. He fostered my love of books and writing. In third grade, my grandfather spent the year sharing his stories with my class. When he came for an author visit at the end of the year, my dream of becoming a writer was solidified. It feels a bit full circle now that I'm becoming a published author as my daughter enters third grade.
In college I pursued my two passions – creative writing and speech pathology. I feel extremely lucky to be living both my dreams by working with children and writing stories for them as well.
What was your best memory from 2020, a strange year we know… It was a strange but wonderful year. Our family grew so much closer and I really valued the family dinners we shared each night. I remember converting my office into a classroom and attempting circle time, choice time, and reading each day with my kids.  I have an even greater appreciation for classroom teachers than I had before!
What are you most looking forward to in 2021? After almost two years working with the incredible illustrator David A. Rodriquez, I cannot wait to finally hold my debut picture book Katie Spector the Art Collector in my hands.
What is the last book you read? I recently started a book club with a few friends which I've really been enjoying. But in the children's book world I love anything by Adam Rex. Especially 'Why?' and 'The Legend of Rock, Paper, Scissors."
What is one thing people would be surprised to know about you? Even though I've written a book about art, I'm not very artistic at all. My mom and daughter love painting, crafting, and drawing. But when it comes to artistic expression…I'm completely hopeless!
If you weren't doing what you are today, what do you think your career path might have been?  I probably would open my own independent book store.  Whenever we are traveling, I always find these amazing local bookshops. There is something comforting about the feel and smell of bookstores and libraries. Over the winter I set up a Free Little Library in front of my house. I get so excited when kids go for a walk on my street and leave with a book in their hands. I love seeing how books can bring together a community.
What was your most memorable family vacation and why? My family's favorite vacation spot is Aruba. Every other year we pack up and head there for a week with grandparents, aunt, uncle and cousins. It's a week filled with amazing memories and we never want to leave.
What is the best white lie you have told your kids? Katie Spector the Art Collector was inspired by my daughter. In kindergarten, her class had a 'tinker station'. Each day she would come home with piles of paper, crafts, and recyclable creations.  She could not part with her art and it began to fill up corners of our house. I started to sneak some of her creations to the recycle bin and one day she saw something of hers sticking out.  I quickly told her that our dog must have ripped it and dragged it into the bin! I'm not convinced she believed me.
Are you a morning person, or a night owl? How does sleep fit into your life right now? I would say since having kids I am a morning person. I often wake in the morning with story ideas and sleep with paper and pen right next to me in case inspiration strikes!
Who in your life was – or is – the greatest inspiration for what you're doing today? See question 2 about my grandfather.
QUICK THIS OR THAT:
Cake or Pie? Neither…I'm an ice cream lover
At a movie: Candy or Popcorn?  Popcorn… with extra salt.
Pancakes or Waffles? pancakes.
Iced Coffee or Hot Coffee?  Neither…i'm one of those weird people who doesn't drink caffeinated beverages.
Beach or Mountains? Beach!
Puzzle or Board Game? Board game…You can't imagine how many games I have in my work closet and how often I play them with my speech therapy students.
Chocolate or vanilla? Chocolate…or even better mint chocolate chip.
Reading or writing? Both…An impossible choice.
Ketchup or mustard?  Mustard…I even put it on french fries.
Watch or play sports? Watch my kids play sports.
Winter or summer?  Summer
Comedy or Drama? Comedy
Book Info: Katie Spector the Art Collector is Lisa Cloherty's debut picture book about a creative girl who can't seem to part with her art. It celebrates community, art and staying true to yourself. It is illustrated by David A. Rodriguez who is also local in Connecticut.
Book Description: Katie Spector creates art everywhere she goes. She makes lions from lint balls and snakes from straw wrappers. Mom tells Katie to pick her favorites and get rid of the rest. Get rid of her art? Impossible! Katie decides to stash her creations in the closets and crannies of her house. What will happen when a summer storm blows the lid off her sneaky secret?
Event Info: On September 25th at 1pm, please join local Westport children's author Lisa Cloherty at the Wakeman Town Farm for an afternoon filled with book readings, art projects and live music. RSVP required. See Wakeman Town Farm or author website www.lisaclohertybooks.com for event information and advanced book orders. No rain date.
Purchase Info:  The book can be purchased directly through the author website or at local events in the area. See website for details. www.lisaclohertybooks.com
Lisa Cloherty, M.S. CCC-SLP
Picture Book Author
Katie Spector the Art Collector out Sept 2021
Terrance the Hothead by ASHApress out 2022
Twitter: @Cloherty_Lisa
Instagram/Facebook: @Lisaclohertybooks
Website: www.lisaclohertybooks.com