For Moms: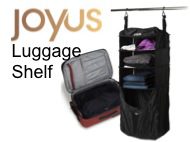 Joyus Luggage Shelf
What is it? It is your own personal closet valet and seriously the best thing to happen to luggage since wheels. The luggage shelf is exactly as described- there are 3 shelves to put your clothes on with a separate pouch at the bottom for your dirty clothes. There is also a top zipper pocket which is good for accessories, appliances or even shoes. This shelf fits perfectly into your suitcase, is incredibly sturdy, and can hold up to 50lbs. This product completely takes the hassle out of packing/unpacking and will help you stay organized. It does not get much better!
Why we love it? Moms know all too well that packing these days is not just about packing for us; it's often for ourselves, a partner, and several kids in tow. Joyus helps you organize your suitcase, limits unpacking when you get wherever you are going, and keeps dirty clothes separate for you! In our opinion, anything that saves time and keeps you organized at a reasonable price is a must have for that next school break trip!
For Munchkins:

Slime Mystery
What is it? It is a do-it-yourself kit where you make flourescently colored slime from scratch in test tubes. It is really easy to follow the instructions and super fun for all. Great for young and older kids

Why we love it? Something about slime just captivates kids. This kit provides hours of entertainment for your budding scientists especially during these cold winter months. Boys and girls will love to experiment with the slime and make different types magic potions. This also makes for the perfect gift for $19.99.