Huge thanks to Dana White, Nutrition Expert,  for this  make-ahead salad which packs plenty of fiber and protein and comes together in minutes.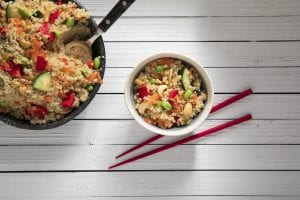 Asian Quinoa Salad
Serves 8
Ingredients:
2 cups quinoa, rinsed and drained
2 cups water
1 tsp kosher salt
2 tsp fresh grated ginger
1 tbsp sesame oil
1 tbsp almond butter
2 tsp reduced sodium soy sauce
Juice of one lime
1 tbsp honey
1 tbsp rice vinegar
1 cup grated carrot
1/2 cup shelled edamame
1/2 cup chopped red bell pepper
1/2 cup diced cucumber
3/4 cup roasted cashews
Directions:
Combine quinoa, water and salt in the inner pot.
Cover, lock the lid, and flip the steam release handle to the sealing position. Select Pressure Cook (high), and set the cook time for 1 minute. When the cook time is complete, allow the pressure to release naturally (about 15 min).
Remove the lid, and transfer the cooked quinoa to a large bowl to cool slightly (about 10 min).
Make the dressing by combing the ginger, sesame oil, almond butter, soy sauce, lime juice, honey, rice vinegar, in a small bowl. Whisk until well combined.
Add the carrot, edamame, bell pepper, cucumber and cashews to the quinoa. Toss well to combine and then add the dressing. Toss to coat in the ingredients in the dressing.
Transfer to serving bowls. Serve warm.
Calories: 286 ; Total Fat: 12g; Saturated Fat: 2g; Sodium: 180mg; Carbohydrates: 37g; Dietary Fiber: 4g; Sugars: 4g; Protein: 10g
Excerpted from Healthy Instant Pot Cookbook reprinted by permission of Alpha, a division of Penguin Random House LLC. Copyright © 2018 by Dana Angelo White
Dana Angelo White, MS RD ATC
Healthy Air Fryer Cookbook (Alpha Books, release date September 2017)
First Bites: Superfoods for Babies and Toddlers (Perigee, February 2015)