Spring is FINALLY just around the corner, and while you may be more than ready–is your wardrobe?? Now is a great time to think about spring cleaning that closet of yours and making way for some seasonal updates. My name is Natalie Decleve, and I have been a Personal Stylist in NYC since 2009. I know first hand how cathartic it can be to purge a stuffed dresser, and how life-changing it is to learn wardrobe staples that actually suit your body and lifestyle. Fashion should be fun and getting dressed shouldn't be hard. So why does it become stressful when we're busy? Usually it's a matter of editing and organizing, because digging through 100 "ok" items to find only a few "great" items just leads to frustration. My motto is that everything should either be "fabulous or foundational" because if not, it's only blocking you from seeing what is! Sometimes less is more, but only if you are thoughtful about the pieces that you choose to buy and keep.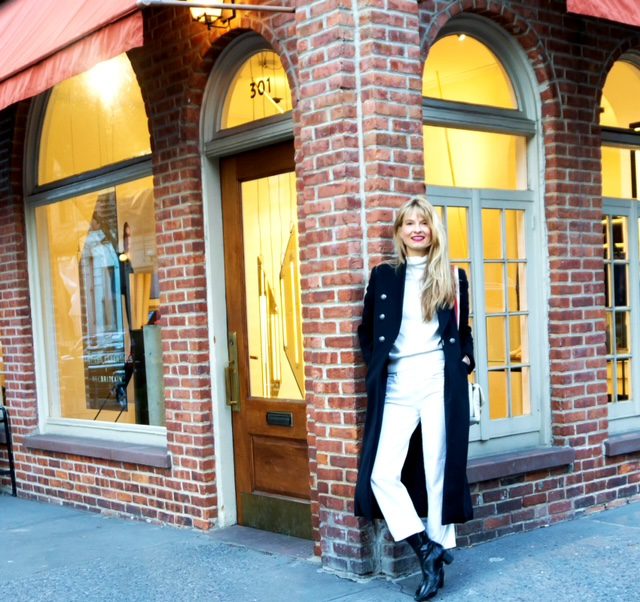 I now bounce between Manhattan and Wilton, and would be happy to help you streamline and upgrade your essentials while creating an effortless wardrobe that makes getting dressed daily a JOY! (Contact info is below.) In the meantime, I've rounded up a list of some of the must-have trends that are sure to boost your look for spring. Happy Shopping!
The Simple Slip Dress: Did this trend ever really go away? No, but with the return of the 90's it has only gained momentum. Self conscious in something clingy? Pair it with a long duster cardigan and consider buying a size up. Silk is always chic, even when (especially when?) it's drapey. A small heel can be helpful in balancing mid-calf length styles.
The Oversized Blazer: Perfect for light layering, blazers are always a favorite for this time of year. This season, they're bigger than ever (literally) with shoulder pads and an oversized fit meant to look like you raided your hubby's closet. How to pull it off? With a fitted turtleneck or tank, over that simple slip dress, or a scoop neck top that shows some skin.
Chunky, Bubbly, Mixed Metal Jewelry: Sometimes all you need to jazz up an outfit is some everyday jewelry that pops. This simple trend is easy to pull off with a tee-shirt and jeans but also adds shine to anything evening, without feeling overdone.
The "New" Mom Jean: Yes, these jeans are still a must for any modern mom and non-mom, alike. The signature high-waisted, tapered but loose leg gets an update this season with the "barrel leg". Slightly curved and open at the bottom, keep this style flattering by making sure it's cropped above the ankle. Wear with anything from flats to sneakers or heels, blouses tucked in or a fitted tank.
The 90's Mini Heel: Lucky for our ankles, heels are still cruising in the low lane with the kitten heel and square toe bringing us right back to the 90's again. Yet somehow, in the way that fashion always does, they feel totally fresh the second time around…
The Shoulder Pad Tee: A bold take on a basic tee, this style looks best tucked either partially, or fully, into a pair of jeans or a skirt. Started by trendsetting brand, Frankie Shop it has become every fashion lover's "basic" and creates a fun shape that reads powerful and more polished than a plain ol' tee.
The Puffy Sandal: Bottega Veneta may have kicked off the trend (literally and figuratively) but it's definitely hit the mainstream now. Which is no surprise, considering fall/winter was full of enormous stompy combat boots and pumped-up sneakers: volume is what it's all about. The puffy sandal is a playful way to add some fun to a simple sundress or jeans. Everything from slides to dressier sandals are getting the puff treatment, and to the extreme.
CONTACT INFO
www.nataliedecleve.com| 917.602.2197 | [email protected]
Instagram @natty_style | TikTok @nattystyle