Summer is officially in full swing, and our newest partner, Ledge Lounger, wants to make sure your family has tons of fun this year!  Their products are all about making the most of your outdoor space, from stylish and classic outdoor furniture to in-pool seating, slides and more. All are meant to withstand heavy wear and tear from families (from teens to toddlers!) and are made in the USA. We asked Melanie Bell, a Mom and Brand Strategist for Ledge Lounger, to share what else separates the brand from others in the industry:
They Combine Form & Function
Ledge Lounger's in-pool furniture is beautiful, but it's also functional and fun. For instance, the stylish patterned Laze Pillow will make you want to immediately replace those tacky plastic unicorn floats. Their Signature Slide is a fun and safe way for toddlers to play on your pool's ledge, but are attractive and will fit into any outdoor living design aesthetic. The Signature Chair is another essential, says Melanie. "If I had a ledge in my pool, a must-have for me would be the Signature Chair. An upright view of what is going on is just what I need whether watching kids or enjoying a magazine and a drink," she says.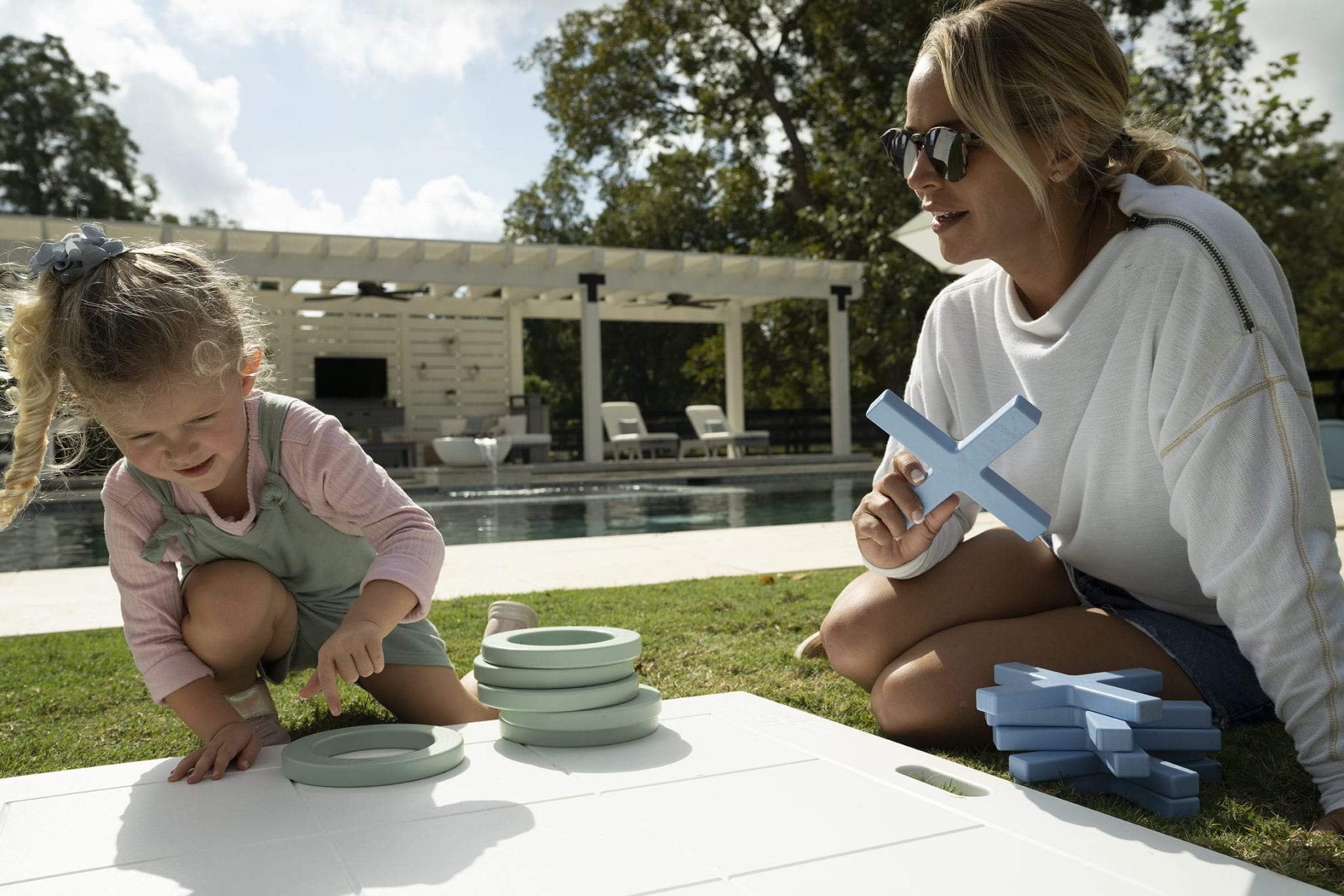 Fun is Something They Take Pretty Seriously
You can quickly upgrade your summer game situation with Ledge Lounger. Take a look at their website and you'll see they have a ton of great-looking options, from ping pong to ring toss to dominos. "I just ordered a Tic Tac Toe / Checkers combo for this summer and am really looking forward to surprising the kids with it!" says Melanie.
The Pieces Will Grow with Your Family
Melanie says all the items including the chairs, slides and games, can grow with your family, so it's an investment now that will provide enjoyment for your kids through the years, and even your grandkids, down the line. These classic, well-made pieces won't wear out or have to be replaced because they look dated. They're timeless, so you can feel good about them from a cost, as well as an environmental, standpoint.
You'll Be Able to Live a Truly Indoor/Outdoor Life
From outdoor dining to poolside to lounging, Ledge Lounger has you covered. For example, the Shift Daybed feels like a resort private cabana, and will make you feel like you're on vacation (without the flight!). The Signature Slide can be used in 1 foot or less of pool water, put in a backyard—or even a playroom. And for those without a tanning ledge, their Signature Barstool provides flexible seating anywhere in your pool. For us, a silver lining of the pandemic has been utilizing every inch of our homes, both indoors and out. Ledge Lounger is helping us take that concept even further!
—————————————-
More about Ledge Lounger:
Whether you are poolside or beachside, at a 5-star resort, or relaxing on your own patio, at Ledge Lounger we believe the perfect day is spent outside. Featuring classic outdoor furniture pieces, stylish, convenience-adding accessories, and our signature in-pool furniture for in water use, all Ledge Lounger products are made of high-quality materials and designed to withstand the elements, so you can relax with peace of mind and enjoy the amenities of the outdoors all year round. Shop our full product line to perfect your outdoor oasis.
This story is sponsored by Ledge Lounger.