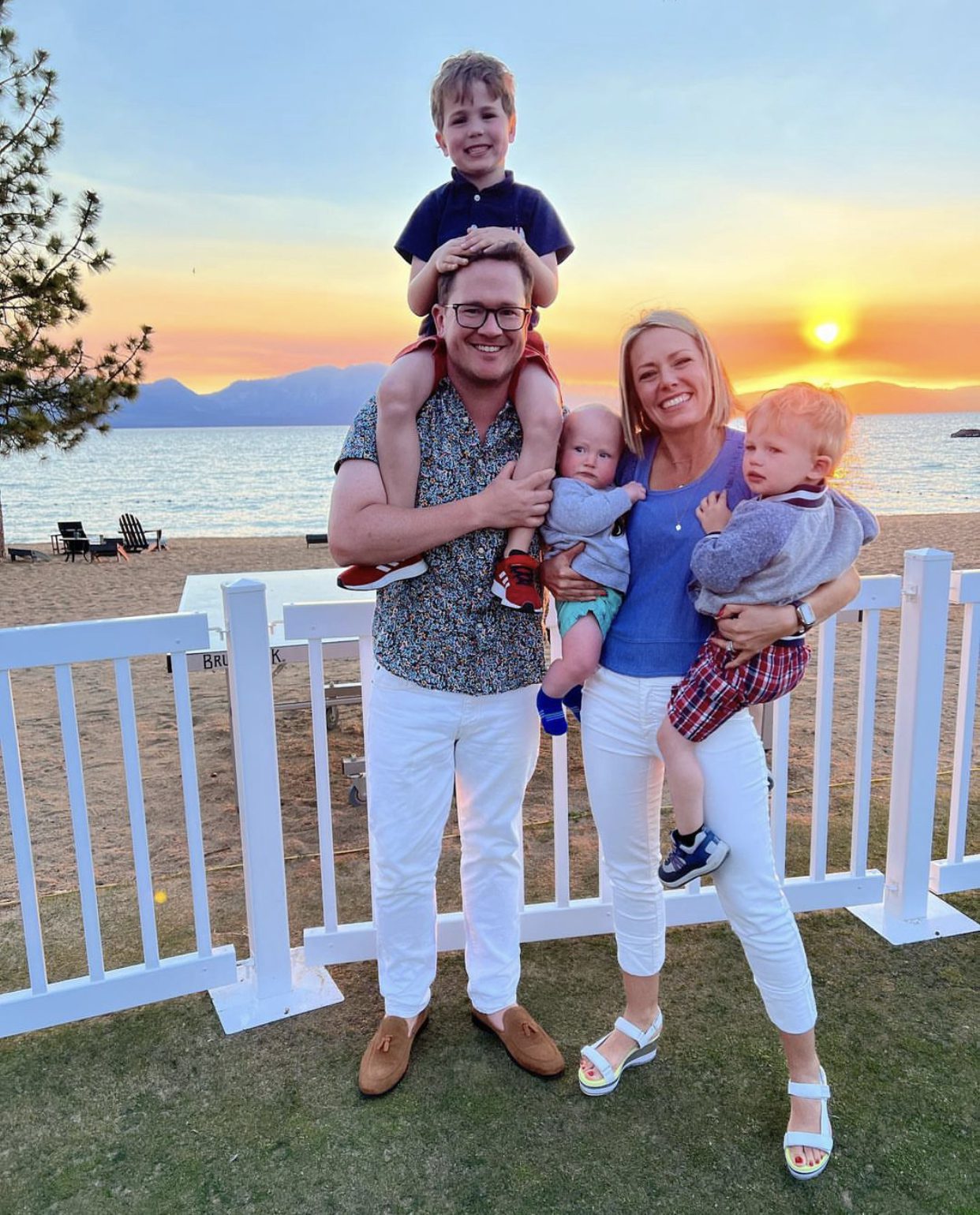 Meteorologist Dylan Dreyer is a familiar face on morning television, as an anchor on the TODAY show's 3rdHour, as well as a regular fill-in for Al Roker and Carson Daly on the first part of the program. Recently, after welcoming her third son in September 2021, she decided to leave Weekend TODAY, to spent weekends with her family — a choice many working moms can relate to.
Not only has she shared her career highlights with fans, but also her personal story, including her miscarriage and journey through secondary infertility. In addition to Russell James (11 months), she is also Mom to Calvin (6) and Oliver (2).  We spoke to Dylan about growing her family, her new children's book (the second in a wonderful series, out September 13!), how she has balanced working and motherhood, and more.
We love Misty the Cloud: Friends Through Rain or Shine. How did you come up with the concept for a kids' book series based around weather? Did your own boys inspire it?
100 percent! Calvin,  my oldest, was my co-editor – any time I had a new idea I'd run it by him and if he liked it, we'd keep it in; this second book is dedicated to him! I've always been fascinated by weather and imagined what if we had this world in the sky that we didn't know about?  As a meteorologist, I also share in the back of the book how rainbows actually form and the science behind it, and how you can create one at home.
Such a wonderful idea! Can you share about your decision to pull back on your TODAY weekend commitments?
Yes! I started at the TODAY show on the weekend show. That was my show for almost ten years and over time, I started doing more Monday to Friday, filling in for Al [Roker] and Carson [Daly]. Then I started cohosting the 3rd hour, and working both Monday to Friday and the weekend shift. When I found out I was having a 3rdchild I said I don't think I can do this, working six days a week. I'm not there in the morning during the week, and mornings are so special – for them to crawl into your bed and then make breakfast. I'm 100 percent committed to my job and I love it, but I also love my family and want to be with them, too. I'm so happy I [decided to take weekends off] and the TODAY show is so supportive of families.
That's amazing. What is your mom mantra – anything that gets you through busy times?
It does get crazy busy. When I look at my schedule the first thing I do is tell my husband [NBC producer Brian Fichera] everything I need to do. He says 'Don't say it all outloud – you know you're going to get it all done but don't overwhelm yourself. Just do it because you always do. It's never as bad as you think it is.'  And he's right!
When I'm not traveling, I make sure that we have dinner together. I cook or order takeout — whatever is the easiest way to get dinner on the table. From five to six, we're eating, laughing and listening to music. It's my moment to take a breath and reset. After that it is chaos again, with bath time and getting ready to end the day.
Were you changed by motherhood in any ways you didn't expect?
Omigosh, yes. My husband and I were that newly married couple who loved their life, going out to dinner, and didn't want kids. Then after five years we looked at each other and said, 'I think we want kids.'  I was nervous, as I was 35 and set in my routine. I found a patience I didn't have before. My son will ask if he can run in the fountain and get his clothes wet. And I say sure. And he'll talk about it for the rest of the night. I've learned that if I step back and take a deep breath and let things happen, it makes for the best moments.
Can you please share a bit about your journey through secondary infertility — and why you decided to share your miscarriage story on television?
After I had Calvin very easily, we wanted to have another baby, but we didn't know it would be hard. I was open on the TODAY show about scarring issues from c-section and how I wasn't going to be able to have another unless we fixed that scarring. I wanted to talk about it because everyone has had or knows someone who has had fertility issues, and it's so important to find a doctor who will figure out what your issue is. If I didn't have a doctor who did imaging of my uterus to see it was closed,  IVF would not have been successful. I was worried as an older mom, I'm running out of eggs, what should I do? There are so many questions and you're in panic mode but I found [the right] doctor.
I just wanted to put it out there that while I am putting a smile on my face in a public environment, I was dealing with secondary infertility. I had a miscarriage and we are expanding our family and we aren't having luck. And I feel you and I hear you.  I felt nervous people would think you have a child, you should be thankful for that. But the feedback was the opposite – women saying I'm having the same experience and thank you for sharing.
Thank you for sharing. On a lighter note, what is your "mom uniform"?
Since I dress up for a living, I am the opposite in real life.  I always find in the Fall I love black leggings, a t-shirt of any color with anything on it and a jean jacket. Let's be honest – it's going to get stained and get put right back into the wash!  My leggings are from Nordstrom they're nice and thick but I can't remember the brand! My jean jacket is Old Navy and my t-shirts are GAP and J. Crew.
You are a seasoned traveler – what are your travel tips with kids?
Since we don't do too much TV at home, an iPad on the airplane or TV in the back of the seat is all they need. I used to bring those carry on bags with small toys they had never seen, stickers, etc., but all they really want are headphones and a screen.
Ha, great tip! We love to support local businesses. What are your favorite places to go in your [Battery Park, NYC, neighborhood] to….
Go to dinner with kids – Miramar…My son Calvin still loves their falafel!
Go for date night: My husband I love to sit at a bar and order martinis and good steak. We like Del Frisco's up the street from us.
Have fun as a family: They just put in a playground near the Staten Island Ferry – there are slides that are built into rocks and a water feature. The kids love it.
To get your nails done: Cove Nail Spa