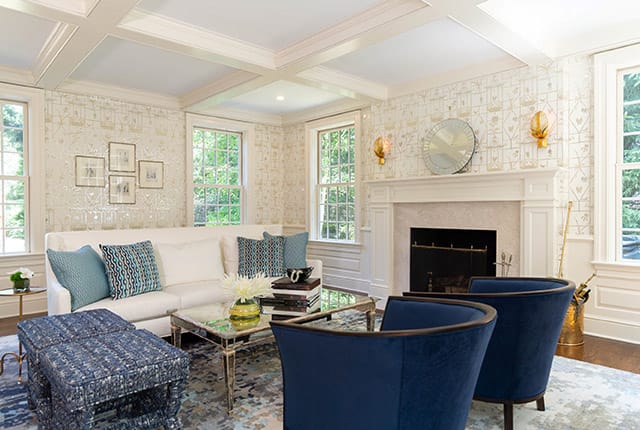 Are you thinking about buying a new home this spring? One valuable new local resource we wanted to share is Prevu. Recently launched by two career real estate and investment professionals, it helps reduce broker fees by matching buyers with a local agent only when they're ready to make an offer—which allows clients to save up to 2% of their home price. Prevu's brokers are salaried professionals, allowing clients to keep 2/3 of the buyer's agent commissions (on average, a $23,000 savings). "The mission for Prevu was formed out of our own frustrations with the high fees and antiquated process of buying or selling a home," says Co-Founder Thomas Kutzman. "We believed there had to be a more seamless way to transact and save during a home purchase thanks to technology." To learn more about Prevu, click here.
In addition to checking out this new tool, the fall is a great time to learn about news and trends in the market. We spoke to Prevu's Fairfield County-based Co-founder Chase Marsh about what's new in local real estate. Here are some highlights:
New Digital Tools for Home Buyers
With the rise of e-commerce, online travel, and hospitality sites, consumers are accustomed to platform experiences where they have more transparency and greater control of their process. "We believe that everyone should be able to buy their home online, and the company's digital buying experience brings that expectation of greater transparency and control to homebuyers," says Chase.
Smart Homes Features
Thanks to WiFi and the sensorification of basically everything, you can watch, adjust, and secure your home from the convenience of your smartphone. That's if your home has been upgraded with the most up-to-date thermostats, smart doorbells, wifi-connected cameras and security systems, and the list goes on. "Homes that have these features tend to sell faster, and are more regularly appearing on the wishlists of homebuyers beginning their search," notes Chase.
Downtown Living
"There is a growing trend of new condo and townhouse developments popping up in suburban downtowns all around New York City. Developers are responding to consumer demand where homebuyers are seeking a blended vibe of urban and suburban with proximity to public transport and a more bustling nightlife (for a suburb)," says Chase. He notes that while this leads to a tradeoff of space for convenience, Millennial suburbanites and downsizing empty nesters aren't turned off by that.
Turn-Key Homes
"While people love watching fixer-upper shows for the drama and design ideas of other folks' renovations, most do not want to live through the experience themselves," says Chase. Millennials, who comprise the largest portion of current homebuyers, prefer new construction properties or homes that have already been updated in terms of appliances, upgrades, etc.
More About Prevu
Prevu is a real estate technology company on a mission to save homebuyers money. The company's digital Smart Buyer™ platform offers a homebuying experience with unparalleled control, transparency and savings when purchasing a home. With Prevu, consumers can seamlessly search, offer and save up to 2 percent of the purchase price when they buy a home. This zero-pressure online experience delivers a smarter, more efficient way for homebuyers to transact. Customers who have used Prevu to purchase homes have received rebates of $23,000 on average. Prevu is your friend in the early miles and expert in the last mile — giving you all of the tools for a seamless buying experience without the pressure.
Homebuyers are able to set their search criteria and browse the properties in their desired areas. On every listing, you are able to request a tour at a time that's convenient for you (Prevu schedules for you, like a concierge service), see how much you'll save with Prevu's Smart Buyer Rebate, and chat with a member of the team who is there to help if you have any questions. The Prevu platform also provides daily property alerts featuring the newest listings and weekly open house alerts (saving you from scouring sites for open houses to attend). Once you've found "the one," you can begin the offer process online and work with one of Prevu's local experts that guides you from offer through closing for everything you need for a successful transaction.
This post is sponsored by Prevu.