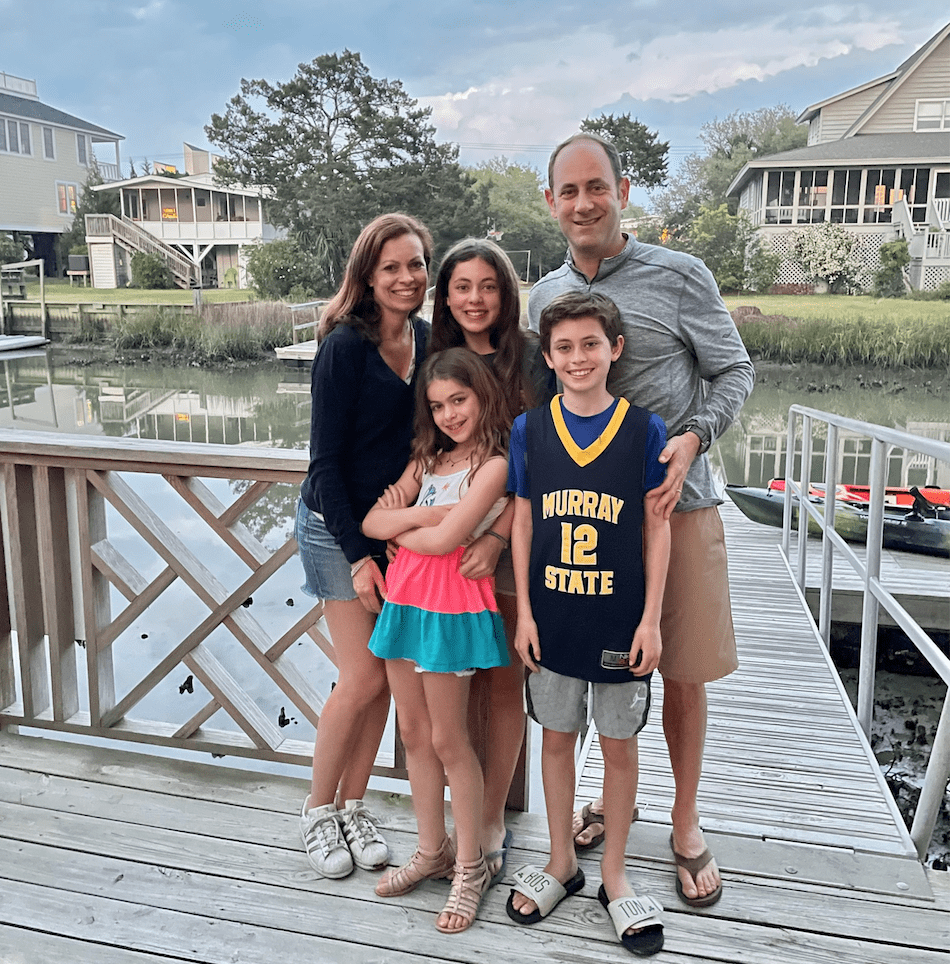 How old are your kids and how long have you lived in Westport? I have three kids, ages 13, 12, and 9.  We have lived in Westport for almost 14 years!  We moved right before my oldest turned 1!
How did you end up where you are now in terms of your job, or whatever passion project it is you might be doing? I started out working in commercial real estate finance, and did contracting for that type of work when my son (middle child) turned 1 through the time my youngest went to kindergarten. After that, I did a lot of searching, talking, etc. to figure out what I wanted to do next.  I really tried to figure out the intersection of my favorite qualities of my old job in finance, my transferable skills, and feeling good about how I spent my time moving forward.  I ended up in my current job that I both love, feel good at, and feel good about. I work at Save the Children (used to be in Westport and now in Fairfield), doing research for their strategic foundation partnerships group.  I have and continue to learn so much about the global development sector that comes with working at an international non-profit. Save the Children has been working in Ukraine since 2014, and is using their rapid response strategy to provide basic necessities like food, blankets and shelter to boys and girls, while preparing staff and resources in surrounding countries to help address the growing refugee crisis. For more information about the amazing work they are doing, click here.
What was your best memory from 2021, a strange year we know…My daughter's bat mitzvah!  It was such a special celebration among family and very close friends at our home.  It felt so good to celebrate something special!
What are you most looking forward to in 2022? Traveling!  Mostly a trip just the five of us driving from SF to LA, and then other trips sprinkled throughout the rest of the year: an adult trip while the kids are at camp, a friends' 50th trip to a dude ranch, and visiting my parent's at their new house on the South Carolina coast.
What is the best show you have recently (binge) watched? AND/OR what is the last book you read? Inventing Anna and Jodi Picoult's, Wish You Were Here
What is one food you could not live without? Pizza
What is your greatest fear? Snakes
If you could live somewhere other than where you do, where would it be? North Carolina, where I am from (and better winters!).
Are you a morning person, or a night owl? Night Owl!
How does sleep fit into your life? I go to bed later, mostly on purpose because I love the quiet house when everyone else is asleep.  It's hard to wake up weekday mornings so on the weekends I love sleeping in a bit.
What thing has surprised you most about being in the suburbs? How early restaurants/things seem to close in the evening, especially during the week (it has gotten better since we first moved here!).
What is the first thing you do when you walk in the door after a long day? Get trampled by my dog – Cooper – he's my biggest fan =)
Who is your favorite hero of fiction? Who are your heroes in real life? Wanda – from the Avengers.  My oldest two and I have recently been watching all the Marvel/Avenger movies and she is so cool and powerful – a real badass. I love her.
QUICK THIS OR THAT:
At a movie: Candy or Popcorn? Popcorn
Cook or order in? Order in
Cake or Ice Cream?  Cookies!
Iced or Hot Coffee? Hot
Beach or Mountains? Beach
Puzzle or Board Game? TOO HARD
Wine or a Cocktail (if cocktail, which one?) Tequila and lime juice but every once in a while a dirty martini
Reading or writing? Reading
Stay in or go out? Stay in, (but asked to go out- ha!)
Before bed: Social media or book/TV? Book
Watch or Play Sports? Play Sports
Comedy or Drama? Comedy
For more info on the amazing work Save the Children is doing, especially during this time, you can visit the following: