Hoffman Landscapes Designs Backyards for All Seasons
With crisp weather moving in, it's time to enjoy fire pit season! The trend for outdoor kitchens and bars is on the rise, as savvy home owners are making their backyards as comfortable as their living rooms. Families are transforming properties into year-round entertaining spaces with backyard campouts, game nights, football parties and other S'mores-friendly events.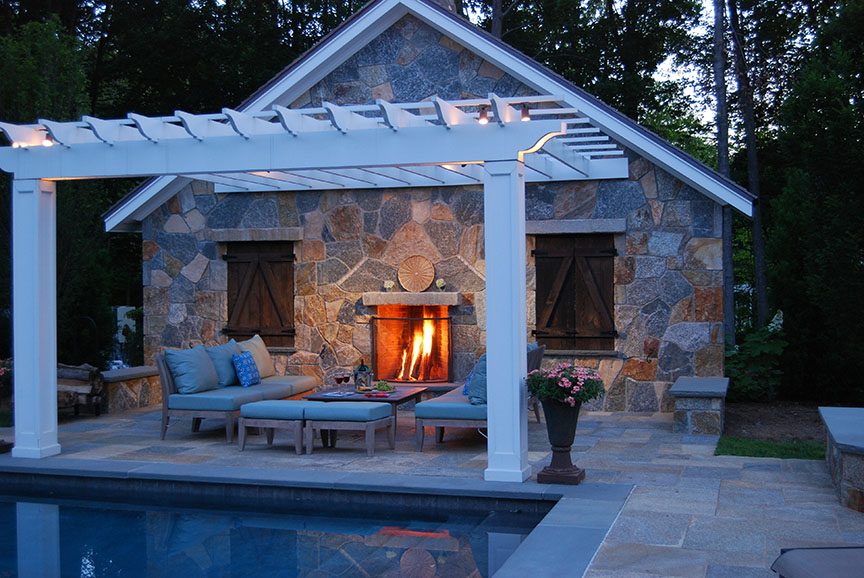 Hoffman Landscapes, which has served the community since 1987, stays on top of the backyard entertaining trend. Their most popular Fall requests are to install outdoor kitchens and bars, pavilions with TVs, fire pits and putting greens—but they can design anything a client dreams up. Hoffman also creates landscape lighting concepts and perennial gardens to make any space more inviting.
Although swimming pools aren't top of mind right now, Hoffman reminds clients that Fall is the perfect time to start planning your future pool. Take care of the permit process in the off season, so you can take a dip in your new pool next summer!
Although swimming pools aren't top of mind right now, Hoffman reminds clients that Fall is the perfect time to start planning your future pool. Get the construction in before winter, so you'll be ready to take a dip before Memorial Day 2020.
Besides pool construction and backyard living rooms, Hoffman is scheduling appointments for Fall cleanups and plantings. It's the optimal time to plant spring bulbs, so you have a pop of color for spring.
Hoffman Landscapes has received numerous awards from the National Association of Landscape Professionals (NALP), Association of Landscape Contractors of America (ALCA) and the Professional Landcare Network (PLANET) for their design/build capabilities, as well as their superior property maintenance.
Fall Reminders from Hoffman Landscapes:
Start plantings now (bulbs such as tulips, daffodils, alliums will be ready for spring)

Schedule a Fall clean-up

September/October is ideal for swimming pool and spa construction

Fall is a great time to create outdoor kitchens, bars and entertaining spaces

Landscape lighting adds a welcoming look to your home. Now that night falls earlier, lighting is an important safety feature as well.

Don't forget to winterize your sprinklers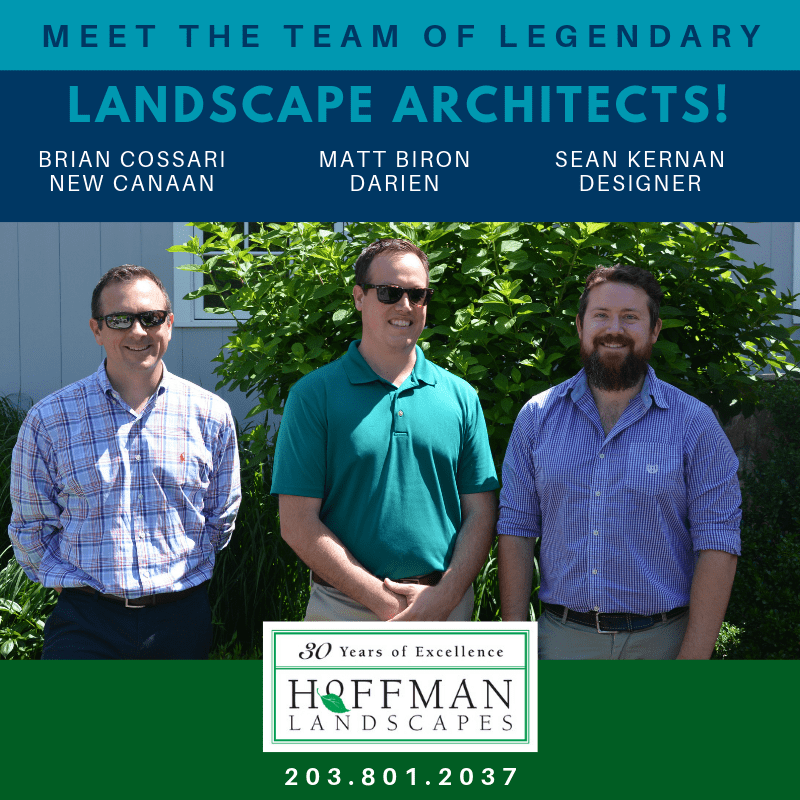 Brian Cossari, Since 2000, Brian has been serving Hoffman Landscapes clients and leading their Landscape Architecture Department. Brian creates stunning design solutions that set properties apart, are in harmony with existing structures and solve environmental challenges that might be present. His expansive talents as a designer and problem solver have been recognized with both local and national awards.
Brian is a licensed Landscape Architect in New York and Connecticut. For over 15 years Brian has volunteered for the Connecticut Chapter of the American Society of Landscape Architects. Brian earned a bachelor's degree in Landscape Architecture from the University of Massachusetts.
Matthew Biron, Having worked at Hoffman since 2006, Matt draws his inspiration from the architecture of each home. This enables him to create distinctive and highly functional outdoor spaces that are a natural extension of the home. His designs lend year-round outdoor enjoyment to a landscape and have garnered national recognition not only for their aesthetic appeal but also for their function and relevance.
Matt is a licensed Landscape Architect in Connecticut. He received a Bachelor of Science degree in Landscape Architecture from the University of Connecticut and is a member of the American Society of Landscape Architects.
In his spare time, Matt enjoys fishing, skiing and spending time with his wife and their new baby, Ruby!
Sean Kernan, A detail-oriented designer, Sean Patrick's knowledge of landscape architecture, planting design and lighting design allows him to be full service to his clients. He is proficient in AutoCad and Photoshop, along with several other design programs, which help showcase his ideas for the homeowner.
Over the years, Sean Patrick has built his experience in landscape design through his tenure at local landscape design companies and garden centers throughout the area. His skill set enables him to efficiently manage and coordinate site crews to implement his designs making him a valuable member of Hoffman's Landscape Architecture and Outdoor Construction team.
Sean Patrick holds a bachelor's of Science degree in Landscape Architecture from SUNY College of Environmental Science and Forestry in Syracuse as well as an associate's degree in Landscape Development from SUNY Cobleskill.
When not sketching garden ideas, Sean Patrick enjoys water sports such as kayaking and paddle board. He is also a craft beer aficionado when it comes to brewing his own and sampling local brews.